Hi, everyone! The families know me already and gave me the trust to go on with this project for Miss Adele's Learning Center, where I've been working since April.
I started as a teacher for infants/toddlers and love every minute of it! I am a natural born leader and I came to Miss Adele's with the intention of furthering my Early childhood education and becoming a leader.
I am currently certified with a CDA, ECPC, First aid and CPR and Fire extinguisher training. I'm working on my director's credentials now which should be completed by September first.
On June 24th I was promoted to Director of this wonderful preschool and together with owners we've selected new teachers for taking care of your children.
Our mission here at Miss Adele's is to provide the best possible quality of childcare in a safe, clean, loving and educational environment. We have new programs going on and VPK classes will start in August.
Our new educational furniture and material gave a new look to the inside of each class. New improvements are also made in the playground area. Everything is just so fresh and positive!
Call and schedule a tour, I'll be happy to assist you with your needs.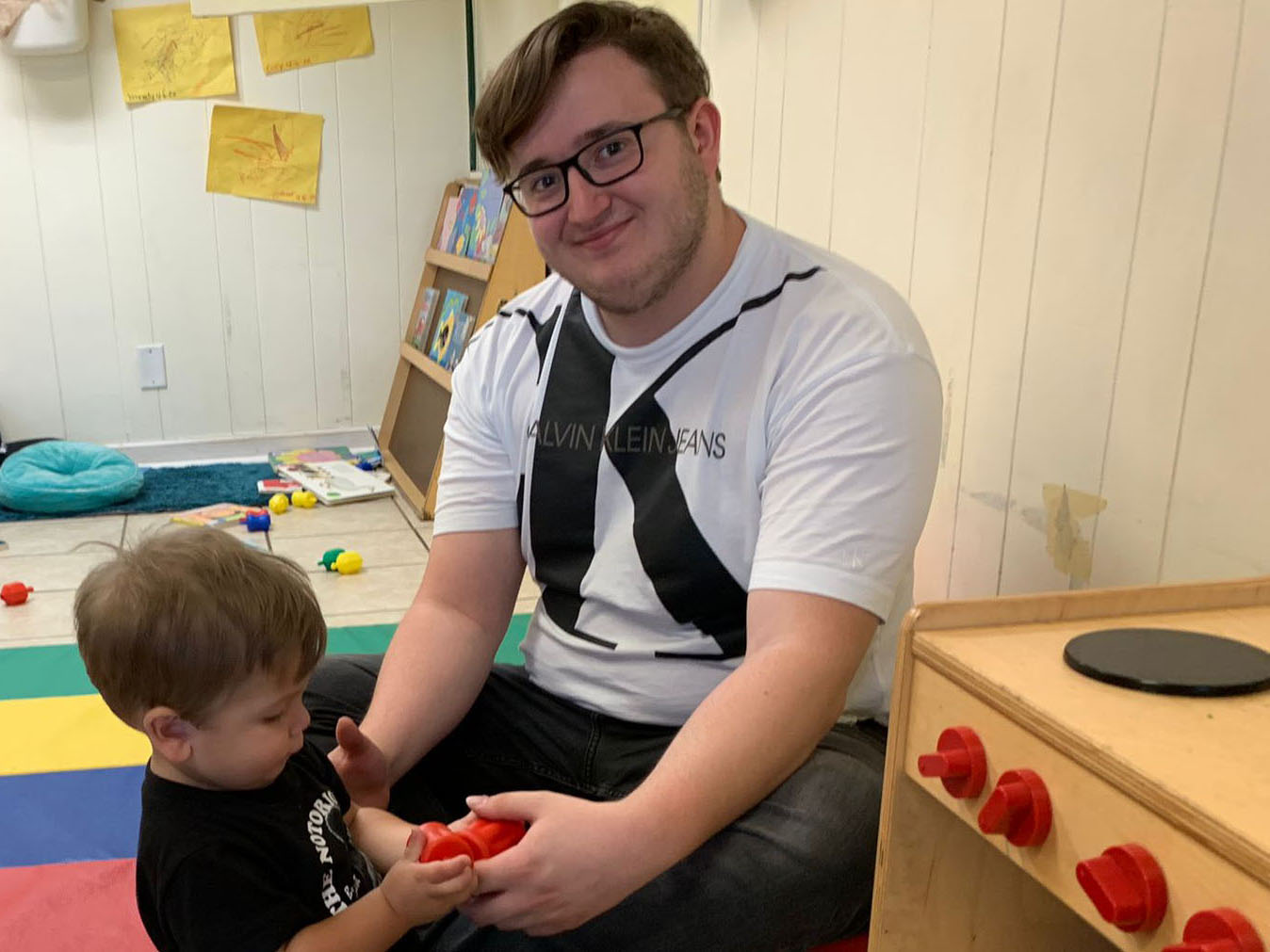 Hello my name is Derek Gallo.
I grew up in Europe, now I'm a citizen of Lakeland and love it!
At Miss Adele's Learning Center I take care of the administration and bookkeeping but most of all I like to welcome everyone at the main door.
Either you arrive or you leave I'll be happy to see you!
My name is Taylor Coker, I started my journey with Early Childhood Education as a freshman in high school while obtaining most of my hours in High School.
I love working at Miss Adele's because everyone is so kind and we have fun with the kids, teach them , and put big smiles on their faces.
I walk in with a smile and leave with a smile everyday because the people and kids are so great! 
Hello, my name is Michael Jacobs. With Southeastern University is my Bachelor in Education, and I have worked with children for years.
I have experience with mainly private schools and churches. I love Jesus Christ and live a christian lifestyle.
I like justice in all fields, I'm considered a veteran from the Marine Corps branch of the United States defense department.
I love working at Miss Adele's because there are so many children of different ages.
Hey Yawl, My name is Cassie. I am the new teacher for the one year old classroom.
I knew I wanted to be a teacher since I was in high school. I have three kids of my own and seeing their eyes light when they learn something is the best feeling in this world and made me want to become an infant teacher.
If I'm not at work with my little loves I'm at home reading books. I'm also a baseball, soccer and cheer mom so my days are packed.
Hi my name is Zoie , I am the new two year old teacher at Miss Adele's learning center.
I have been a two year old teacher for almost 2 years now.
Since having my son Zero, my passion for helping kids grow and learn has also grown.
I look forward to making all of the new and wonderful memories with your children that come with being their new teacher.
Hello families 🙂 My name is Megan.
I have been in childcare for five years.
I started off as an infant room teacher than gradually went through all ages.
I'm super excited to join the family of Ms. Adele's learning center.
I can't wait to help each of one of you as your child enters the classroom 🙂
Hello my name is Chetarra.
I just moved to Florida from Connecticut and I started my childcare journey while I was there.
I am working on maintaining my DCF45hr so I can earn the fccpc certification.
I chose childcare because it is a passion of mine and it is fun to help them learn.
Hi my name is Nyani and I specialize in infant learning.
I graduated with a degree in cosmetology and is a hairstylist on my off days.
I love the growth of children and enjoy seeing them achieve greatness.
Even though I am young to the daycare world, I hope to one day open my own daycare and hairstylist.
Thank you
Hey there my name is Farrah, I'm originally from Ohio but moved to Florida when I was 8.
I have two amazing boys of my own and a baby girl on the way.
I have been in child care since 2020 and love every bit of it teaching children is such a rewarding experience knowing.
I am the reason a child has learned or discovered something will always be fascinating to me being at Miss Adele's is such a blessing and I am forever grateful for the opportunity to teach your little ones.